Happy Birthday Etude House Indonesia
October 22, 2013
Happy Birthday to you! Happy birthday to you! Happy birthday...
Brand makeup Etude yang sudah 5 tahun ini menganti nama sebagai 'Etude House' kemarin ini merayakan ulang tahunnya yang ke-5. Dengan melaunching produk terbaru andalan mereka yaitu Precious Mineral Any Cushion, dan juga mengumunkan bahwa Etude House akan segera membuka 4 gerai terbaru di
Plaza Balikpapan, Mal Panakukang Makasar
dan akhir bulan Oktober akan dibuka outlet di
Mal Ciputra Jakarta dan The Park Solo.
Pada perayaan Ulang Tahun ke 5 Etude House mengundang 20 Beauty blogger dan 80 Rekan Media (kebayang boo ramenya) di Ratatouille Bistro & Bar, acaranya lengkap dari demo makeup sampai makeup challange. Event kali ini juga special karena dihadiri langsung oleh
Lise Je Kwon
,
Manager Training Etude House Korea
;
Chris Choi
,
Business Development Representative Etude House
;
Melia Erlina,
General Manager Etude House Indonesia
;
Yenny Maria
,
Directress Etude House Indonesia
;
Ivonne Chandra
,
Make Up Artis Etude House Indonesia.
IYEAP! That's me, menjadi model untuk demo Preciouse Mineral Any Cushion. Bisa dilihat muka tegang, tanpa makeup.... dan! ternyata Makeup artist nya cuman dandanin setengah muka :' gue stress... HAHA! foto-foto bareng blogger lain muka gue putih sebelah krik!
Left : After ; Right : Before
Here's the result, hasilnya natural banget dan cukup untuk menutupi kemerahan diwajah dan juga bekas jerawat ku.. Foundation dari Any Cushion berhasil bikin muka aku jadi cerah sebelah. Agak sedih sih karena cuman dikerjain sebelah :"). Keliatan deh muka aku itu engga simetris, makanya aku koreksi pakai makeup. Apalagi dibagian bibir.
ada Sasya! yep that's her. Sasya ternyata pencinta Etude House banget dan dipercaya untuk demo makeup selama 10 menit on stage.... Tapi, yah emang ibu satu ini sudah dikaruniai keahlian makeup ala korea, jadi hasilnya so pretty !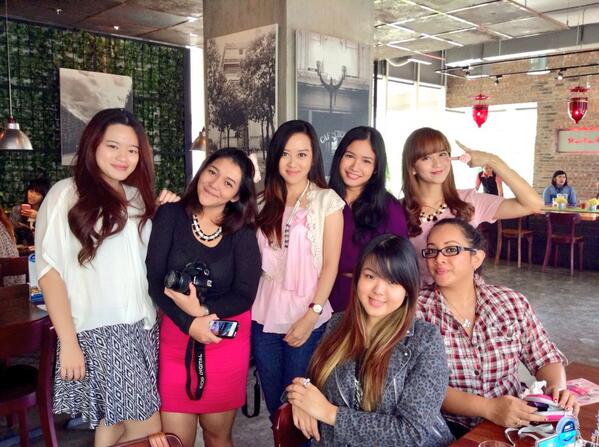 Thank you Etude House Indonesia, untuk review any cushion akan segera menyusul yah. So far aku masih tried and test produknya :P maklum rempong kalau urusan review sekarang. once again, HAPPY BIRTHDAY ETUDE HOUSE INDONESIA!